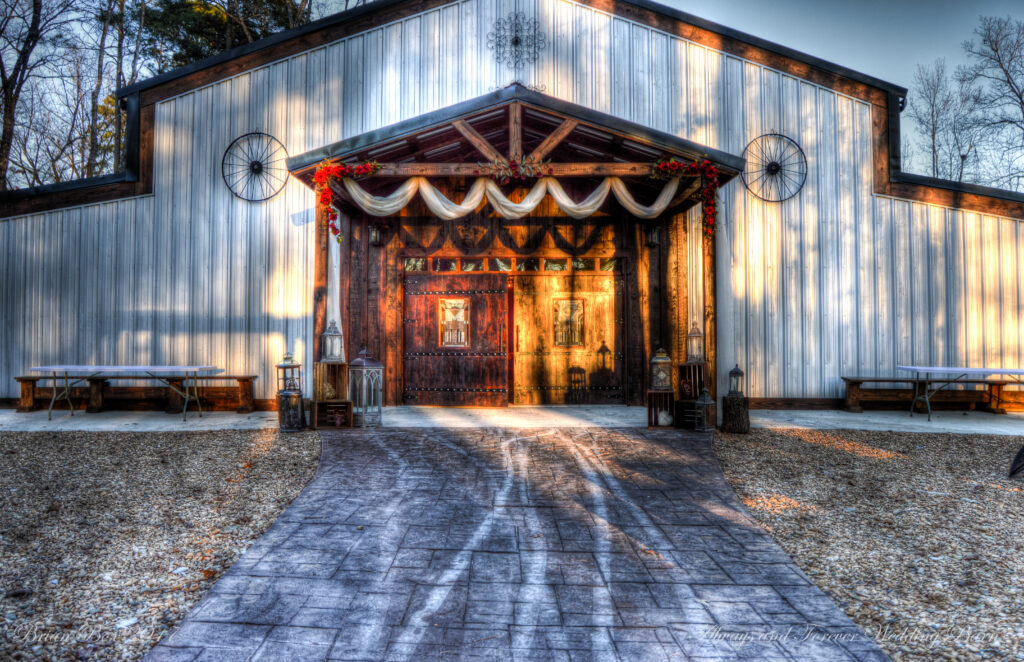 All packages require ½ down to secure your date. NON REFUNDABLE down payment.
The remaining balance is due 30 days prior to event date.
$300 check made to Always and Forever Wedding Barn is refundable 30 days prior to event. Check is refunded when barn is cleared of all trash and no damages are seen. Refund can take up to 30 days.

Base Pricing for Barn with all amenities
Saturday or Sunday 7am-9pm (decorated)– $4500
Friday 3pm-9pm and Saturday7am-9pm- $3500
Friday   7am-9pm – $2700
                                                            Sunday 7am-9pm – $2700
                                                           Saturday 7am-9pm – $3000

All about Us
$4500
This stress free package includes:  access to the barn and all the  amenities
for a Saturday or Sunday event, and we do the decorating
we decorate the tables, arbor, walk way, entrance table and food table.
you choose your colors and you can always add to the decoration or take away

Always & Forever Package
$3500
This romantic package includes: access to the barn and all the amenities for a Friday and Saturday event.
This will give you the time it takes to decorate and rehearse for your special day.
Friday 3pm-9pm and Saturday 7am-9pm 

New Beginnings Package
$2700
This timely package is for any Friday or Sunday event. It includes the barn and all its amenities.
Pick a Friday or Sunday 7am -9pm

Intimate Moments Package
$1700
This package is for a more private, personal and small events of less than 60 people.
Monday- Thursday 9am-9pm total barn time is 12 hours with this package

You & Me Package
$3000
This package is for any Saturday event. It includes the barn and all its amenities.
Pick a Saturday 7am -9pm


Request a date
Discounts
US Veteran active or retired (Husband or wife)
$300 Always & Forever Package or New Beginnings Package
Memorize I Corinthians 13:4-8
Both husband and wife recite to me $100
"Love is patient, love is kind. It does not envy, it does not boast, it is not proud. It does not dishonor others, it is not self-seeking, it is not easily angered, it keeps not record of wrongs. Love does not delight in evil but rejoices with the truth. It always protects, always trusts, always hopes, and always perseveres. Love never fails."