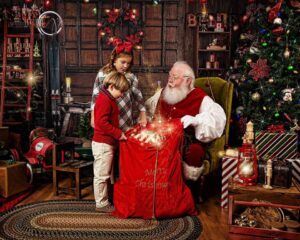 Santa Daren is coming November 21 and 22nd from 4-9 pm
$25/ family
Enjoy Santa and his elves
you take your own photos just in time for Christmas!
for reservation call today.  501-326-1538
Our venue is nestled in the woods of Alexander, Arkansas. The peaceful and inviting setting is the perfect place to start your forever adventure. The choice is yours to have a beautiful country charm wedding or embrace a breath taking vintage romance ceremony. The ambiance is very inviting and peaceful. In this climate controlled facility you and your guests can enjoy the party even if it's 100 degrees outside.
Our barn has ladies and a gentleman's dressing room, two bathrooms, fireplace and outdoor fire pit. We provide tables, benches, chairs and lots of decorations for you to choose from. You need to visit the barn to feel the comfort and peace it provides.
Call or email for a personal tour. 501-326-1538 or aafwb1991@gmail.com

Wedding Barn Amenities
Large climate controlled Barn seating up to 150 people
Beautiful Lighted Pergola
Romantic fireplace
Outdoor deck
Outdoor fire pit
2 large rolling serving tables
16 Rectangle 96" tables (seats 8-10 people)
1/2 to the floor 60 x 90 table clothes
to the floor 90 x 132 table clothes
4 round 48"tables (seats 4-6)
90 round gives a 21″ drop
108 is to the floor table clothes
150 black metal chairs
16 12′ outdoor wooden benches
15 12′ indoor wooden benches
3 high chairs
Private Lady's dressing room
Gentlemen's dressing room
2 restrooms
Large refrigerator
Convection microwave
Parking
Handicap accessible

Wedding Barn Packages